The weather is slowly but surely getting better, the days are undoubtedly getting longer and we are all ready to emerge from our hibernation in heavy winter clothes and start trying out all of the lovely fashions that are once again available in all of the high-street shops and online. One of the best things about the end of winter is that we can stop wearing our heavy winter boots! Sure they may be great when it comes to offering protection from the elements, keeping our feet dry and helping us traverse treacherously slippery paths, but there comes a time when we want our feet to feel a little freer. And that is where gorgeous summer sandals come in. They look great with jeans, dresses, skirts – anything really, and can really help lighten an outfit. If you are planning on buying some new summer sandals now that the weather has started to improve again, then check out these lovely ones right here!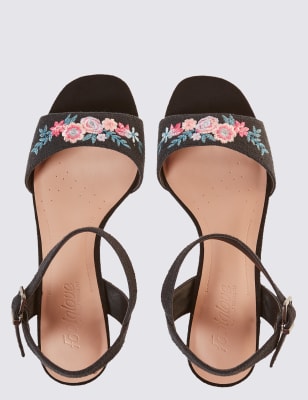 Embroidered floral motifs are once again set to be huge this spring-summer season, and whether the design is on your jeans, your bag, your shirt or your shoes, it is a lovely and feminine trend that looks great for the summer. These sandals from M & S hit the nail on the head perfectly with these simple block heel sandals with floral embroidery detail. You can choose from either cream, or the black that is shown here and this pair would be a good transition piece from smart to casual. Smart enough to wear to the office but also casual enough to wear to the beach, this flirty and fun pair of sandals will be easy to style with most of your summer wardrobe. Priced at under £30 and available in wide fit too, for an easy to wear and versatile pair of sandals, these are perfect.
For an eye-catching pair of sandals that are sure to become the focal point of any outfit, then why not invest in a pair of these fun pompom sandals from Missguided? With a flat base reminiscent of espadrilles and a simple gladiator design, you can easily show off your tanned pins with a pair of these. Pompom sandals are another trend that was seen on the catwalks, and it is a fun and surprisingly easy way to wear a pop of colour. The bright colours of the pompoms are set off by the nude colour of the sandal, and at only £22, they are a complete bargain!
For an easy to wear pair of mules that don't cost the earth but also channel the floral trend, this bargain pair from TU at Sainsbury's would look great with any look. Costing only £16, these faux-leather mules will easily see you through spring and summer, with the simple monochrome flower detailing adding just the right amount of interest to the otherwise plain shoe. Wear with mom jeans on cooler days, or a cool sundress when the sun does come out to shine!