Now that the wind and the rain have stopped conspiring together to ruin our hair, make-up and outfits, and that we can lighten up on our clothes once again, it is the perfect time to start showing a little skin. With its fresher and longer days, green nature and increasingly better weather, in the spring we can afford to start being a little bolder with our fashion choices, and this is where the mini skirt comes into play.
Since the 1960s the fashion world has been enamoured with the fantastic if somewhat unforgiving mini skirt. From skirts to dresses the daringly high hemlines are something that we still rave about these days. Even when the weather is a little bit cooler, throw on a cosy jumper with a mini-skirt and some trainers for a fun and flirty look that also looks really put together. As per usual, this season the high-street doesn't disappoint with its mini-skirt offerings, so find out some of our favourite ones here today!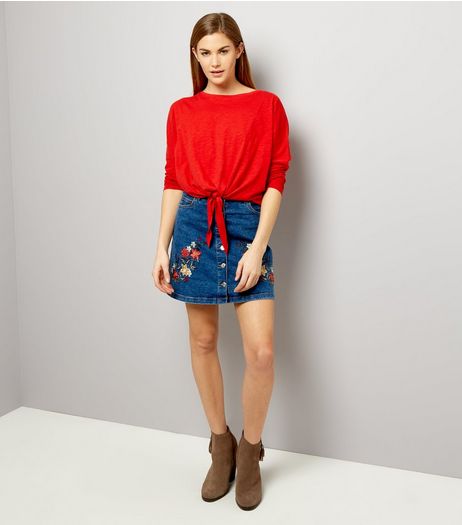 When it comes to mini-skirts it is also wise to have a classic and easy to wear denim one stashed somewhere in your wardrobe since they are so practical. This is thanks to the fact that you can easily wear them with tights in winter or with bare legs in summer, so this is one mini-skirt that you will get to wear year round. We've said it before and we'll say it again, we are in love with the embroidered floral trend, and this skirt from New Look gets the trend perfectly. With its A-line shape trendy front buttons and of course the gorgeous floral embroidery detail, this shape is actually really flattering on the majority of shapes, and easy to wear as shown in the photo. Priced at £24.99.
For a skirt that you can wear just about anywhere, then this lovely black mini with its stunning scalloped hem is the mini-skirt that you've been missing in your life. With an elegant high waist, chic visible silver zip at the back and of course that beautiful hem, you can either dress this skirt up or down as it suits you. With a slight stretch to the material, it is also surprisingly comfortable to wear, making it the perfect summer mini, especially if you are in the city. It costs only £19.99 from H&M, and will look good with sandals, heels or even some light summer trainers.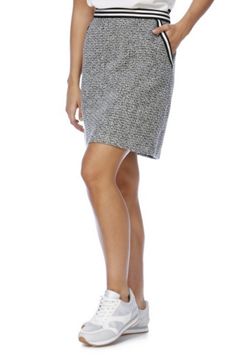 For an offering from a supermarket now, this lovely mini-skirt is from Tesco's fantastic Florence & Fred range. This boucle skirt in chic black and white with an on-trend sporty trim is the smart-casual skirt that will look great this summer whether you are at work or chilling out at the weekend. With pockets, and a concealed zip, the high-waist and slightly relaxed style mean that it will flatter the majority of figures whilst avoiding looking shockingly short. A complete bargain, check it out next time you are doing your weekly shop!