We are always going on (and on…) about our favourite floral trend that is once again in full swing this spring-summer season in the world of fashion. However, another key trend that everybody else is going on about is of course gingham that is suddenly everywhere on the high street.
Unlike floral motifs which are a perennial favourite come every spring, gingham designs are a bit more elusive, and this material only seems to hit the catwalks every few years or so. Maybe it's because we are all secretly afraid of looking a little bit like a country kitchen, but there's no need to shrink away from gingham and especially not this season! With so many check sizes and colours to choose from, not to mention the fact that gingham garments typically tend to be made from light and airy cotton, there will certainly be a gingham piece out there that will fit in well with your own style. So channel your inner prairie girl chic and check out these gorgeous gingham pieces from the high street this season.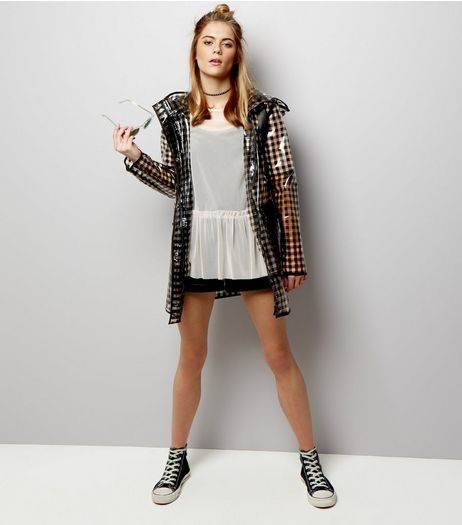 If you really think that that gingham is better suited to a table cloth than to a trendy piece of clothing, then think again. You don't always have to go down the most obvious route when it comes to wearing gingham, as shown by this quirky and absolutely fantastic gingham anorak. The black and clear check design gives this rain coat an almost futuristic look, and the fact that it is partially see-through is a perfect way to show off your stylish summer outfits even when the unpredictable British weather comes into play. You can easily rock the gingham trend with this chic monochrome number and can even style it in different ways. From hippy style to grunge, this is a versatile and affordable piece from New Look that is sure to come in handy this spring and summer!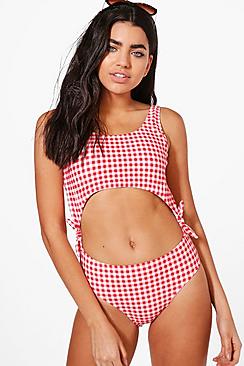 For a way to wear red gingham without looking like the dreaded aforementioned kitchen diner set, then how about wearing it in a funky swimsuit this summer? Absolutely nobody is going to be thinking of anything else but how great you look in this vibrant and daring swimsuit from Boohoo. With plenty of secure coverage that will let you do any water sports with these, the swimsuit is prevented from looking frumpy thanks to its sexy side ties and cool midriff baring front. Not for the faint of heart, this is one seriously stunning swimsuit!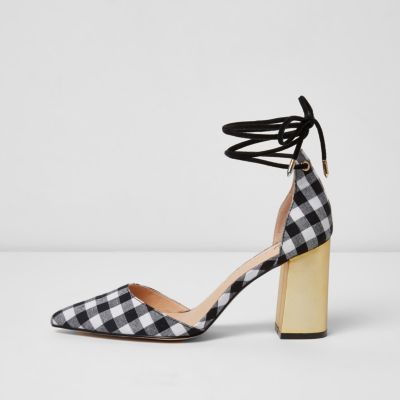 If you only fancy trying out a hint of gingham, then this pair of classy block heel sandals from River Island is just the ticket. The black and white means that you can wear these sandals with a lot of different outfits without fear of clashing, and the slightly rounded pointy heel will elongate your legs and make you feel fantastic. In a style straight from the 1950s you are sure to feel glamorous and gorgeous in this fantastic pair of gingham heels from River Island!